Are you in need of some fun activities to keep kids busy and minds active this summer?
The team here at 3Doodler put together a sample week's worth of STEAM activities that can power up a summer camp or an at-home DIY Doodle Camp. From robots to atoms, planets, and plants, learners of all ages can make cool projects that ignite creativity and critical thinking. And if you need any additional activities, we have even more lesson plans for you to explore here.
For a fool-proof "starter pack" of relevant projects, here is a sample week's worth of STEAM Doodles.
Monday: Let's experiment with 3D versus 2D objects. Bubble wands are a great tool that can be used to check out any possible differences and see them in action. You can learn more about this lesson here.
Tuesday:  Let's branch out. For today's activity let's explore leaves and how each one is unique yet functions the same.  There are so many different types of plants, all with different types of leaves so let's explore them.
Wednesday: Is it really a STEAM week without a robot project? Use this stencil to incorporate art and hands-on building into any robotics lesson or activity. Check out the tutorial here.
Thursday: On Thursday we get molecular. By Doodling Rutherford's atomic model we can get inside and examine up close what's going on inside an atom. Learn all about this lesson here.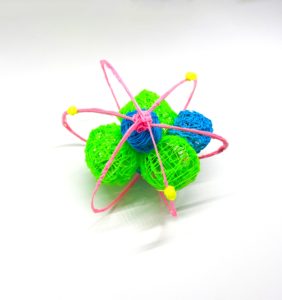 Friday: Let's round out the week with an interplanetary activity as we compare and contrast the structures and layers of various planets. This activity will get kids thinking about how the earth is made and how it fits into the solar system. Get the details on how to Doodle your cross-section of the earth here.
3D Robot Tutorial 101
This week we'll guide you step by step through building your own totally cute 3D robot. After all, what's a week of STEAM-themed activities without a fun hands-on robot build? This tutorial was designed for our Start pen, but can easily be Doodled in more detail using the Create+ or even PRO+ depending on your skill level.
Head over to the tutorial to learn more. Or check out the stencil here if you want to jump straight into things.